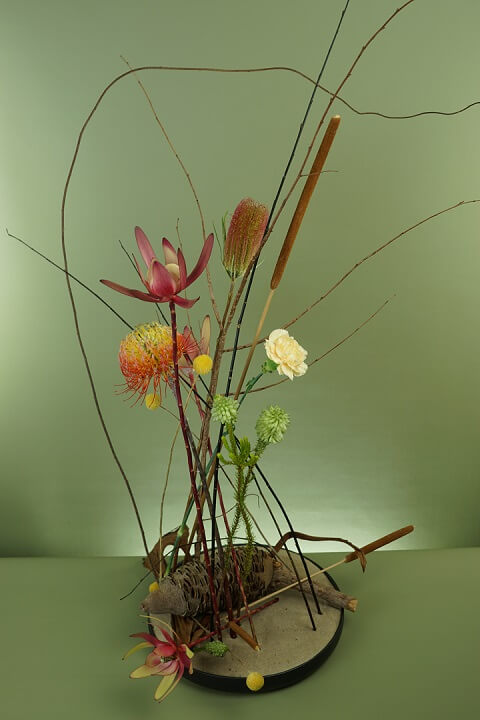 Design of the Month Gallery
Each month we choose and feature in this gallery one design.
It is sometimes a design which exemplifies Course learnings, at others a class example by course facilitator Mark Pampling.
Often it is a work by another collaborator or muse, from which we may have gained insights, or inspiration.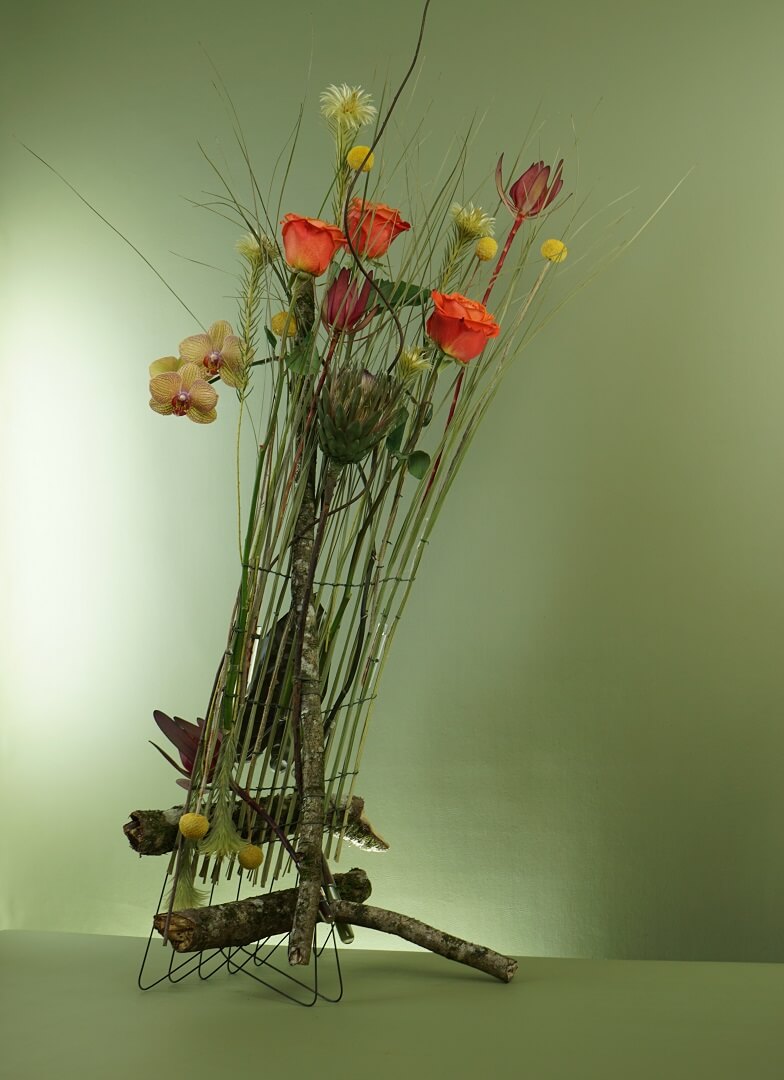 November 2023
Example design created for Leaning Design Task in Design Directions.
One of my favourite ways of working, it teaches you a lot about visual balance and rhythm. Here I chose to work into a structure. Working into foam or directly into water would also give the same experience of experimenting with visual balance.
Phalaenopsis, Rose, Craspedia, Phylica, Leucadendron, Protea, Xanthorrhoea, Delonix, Alocasia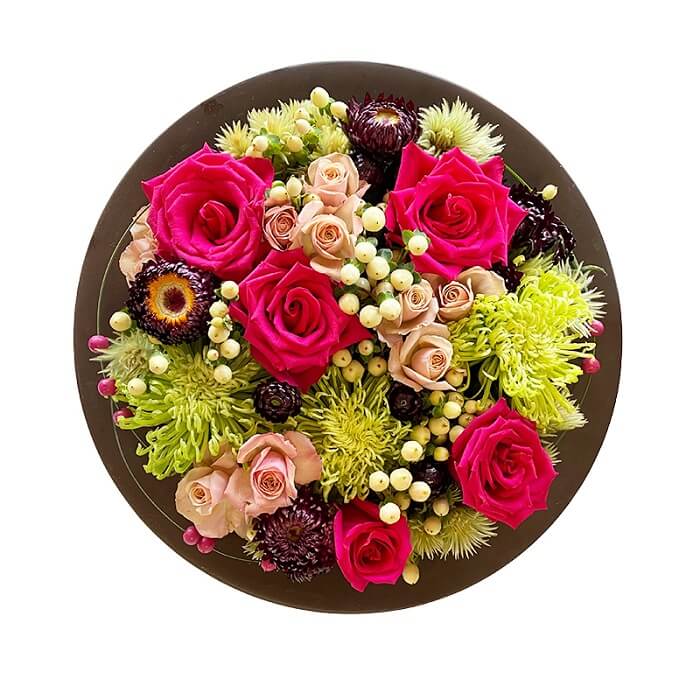 October 2023
A compact and abundant composition created by Kerry Thomson for an Advanced Directions task which asked for a low, decorative parallel design with proportions directed horizontally, working in shallow depth.
[Botanicals to be advised]
Design - Kerry Thomson
Photography - Kerry Thomson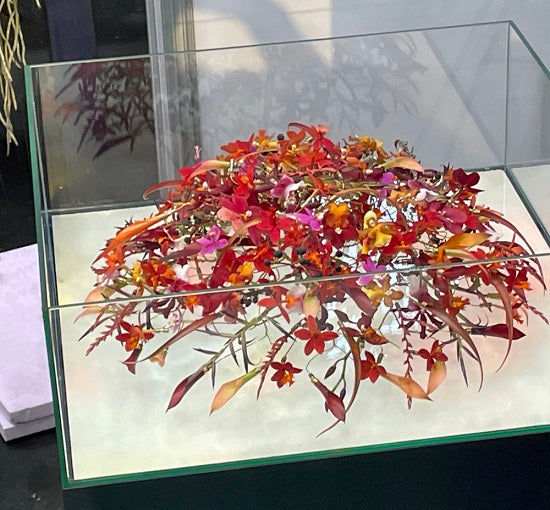 September 2023
A Heavenly Wedding
Created by Elisabeth (Lisa) Pålsson, Norway's representative in the 2023 World Cup. Here, Lisa holds the design, revealing the wound wire "tree" structure to which all the flowers are magnetically attached.
[Botanicals to be advised]
Design - Lisa Pålsson
Photography - Mark Pampling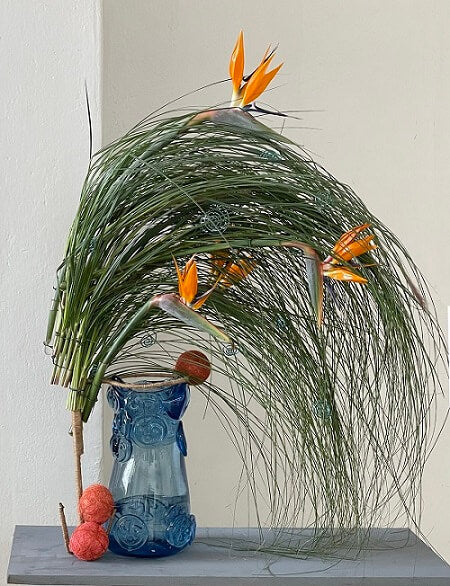 August 2023
Glass and Grass - A Rhythmic composition by Priyah Shah in Designing to Win
Dramatic, sweeping use of grass was part of this interpretation the theme Glass and Grass. The choice the blue bottle brings glass into the spotlight, its colour subtly integrated into the rest of the composition with the use of blue aluminium wire spirals. The blue of the glass is also repeated in the petals of the Strelitzia flowers.
[Botanicals to be advised]
Design - Priyah Shah
Photography - Priyah Shah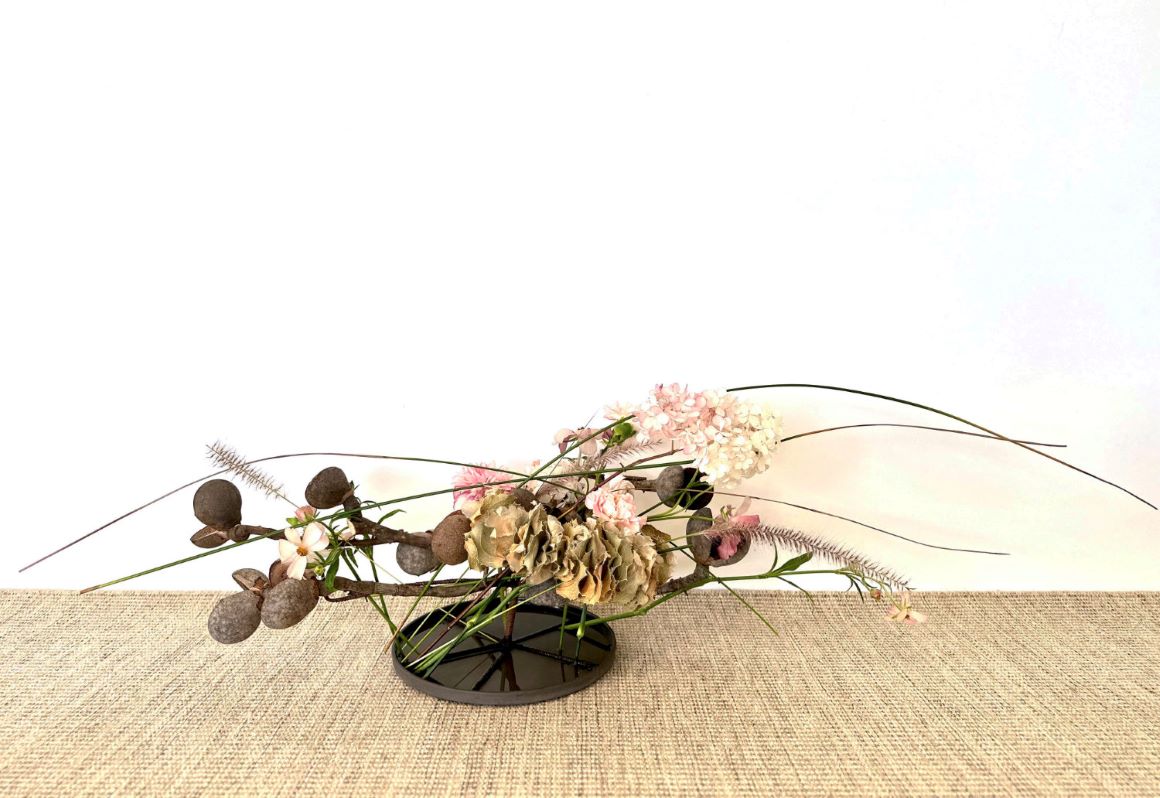 July 2023
A low, decorative design with proportions directed horizontally, created by Annita Bokobli as a design task for Design Directions.
Hakea platysperma, Grass flowers, Hydrangea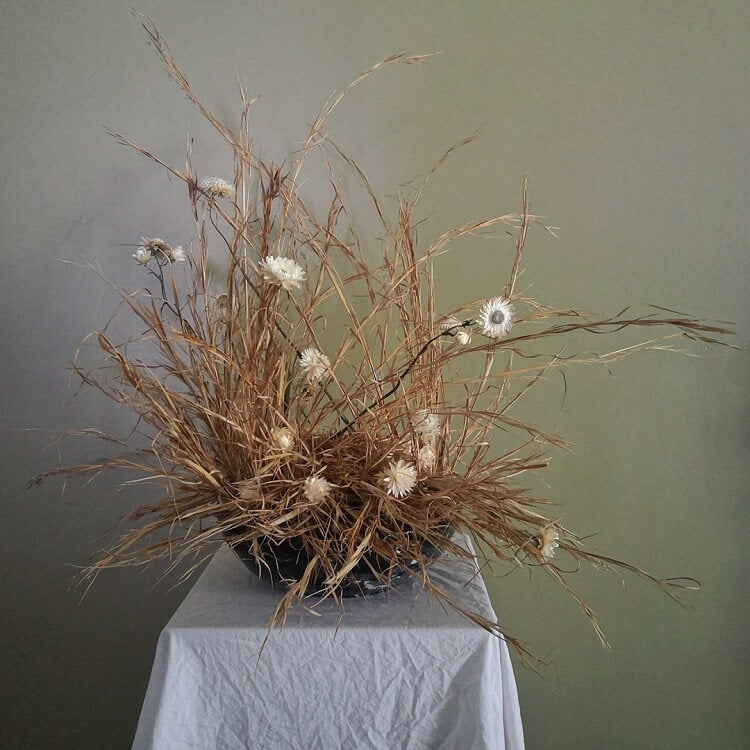 June 2023
Creating impact with minimal material variety can be difficult - particulary when working at scale or with small or thin materials. This design was created by Luke Simon as an Overlapping Design exercise in Design Solutions.
Xerochrysum, Schizachyrium Scoparium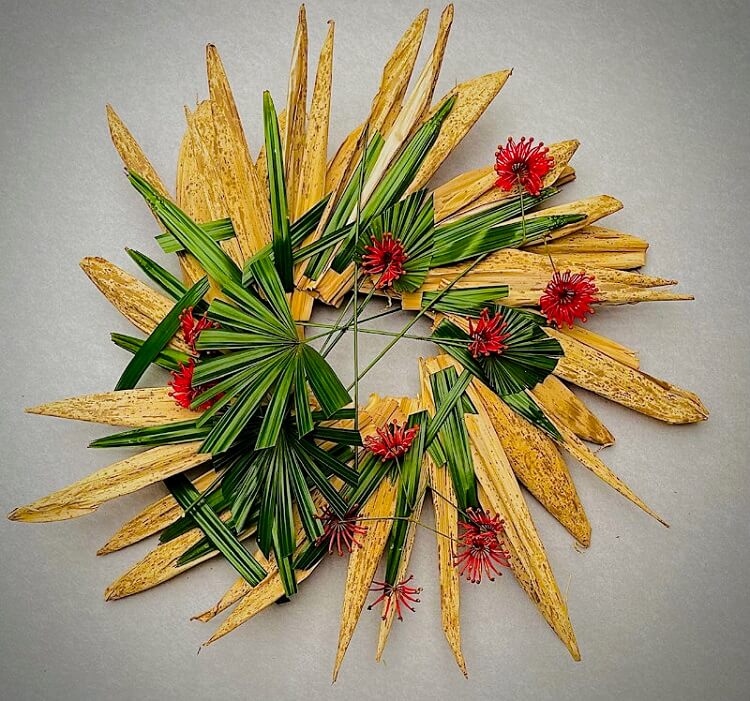 May 2023
Created by Michael Cordeiro for Wreath task in Design Solutions.
Loose silhouette and contemporary distribution of materials draw the eye in and stretch common understandings of what constitutes a wreath.
Bamboo sheaths, Rhapis Palm
Design - Michael Cordeiro
Photography - Michael Cordeiro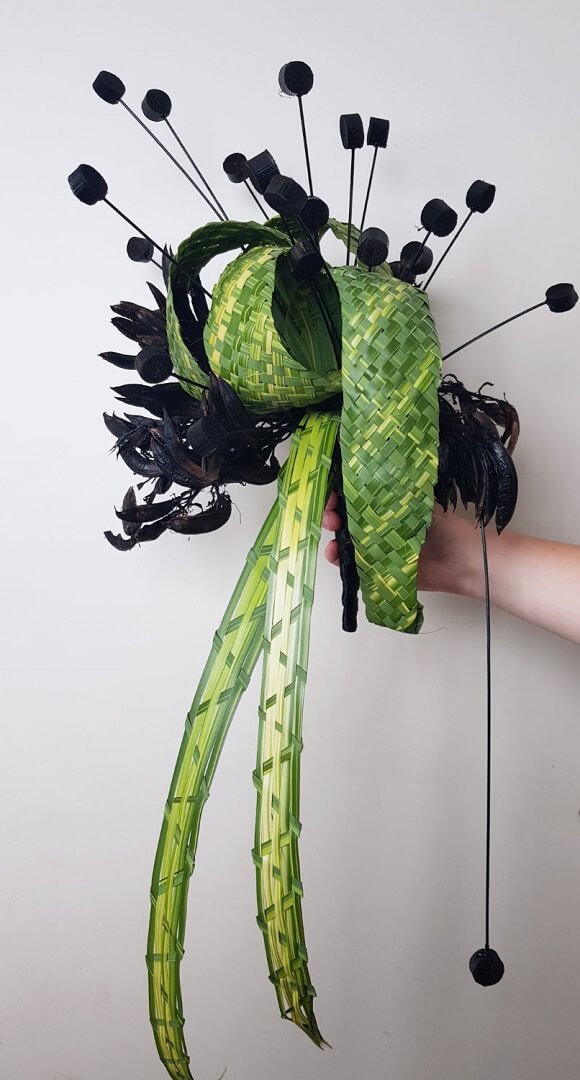 April 2023
Bridal design exercise from Design Solutions
Bridal designing offers the opportunity to work on a manageable scale, paying close attention to craftsmanship and detail. Achieving this with reduced material variety adds to the challenge.
Created entirely using two varieties of Phormium – from fresh, woven strips, through to dried, coloured florets and stem slices.
Phormium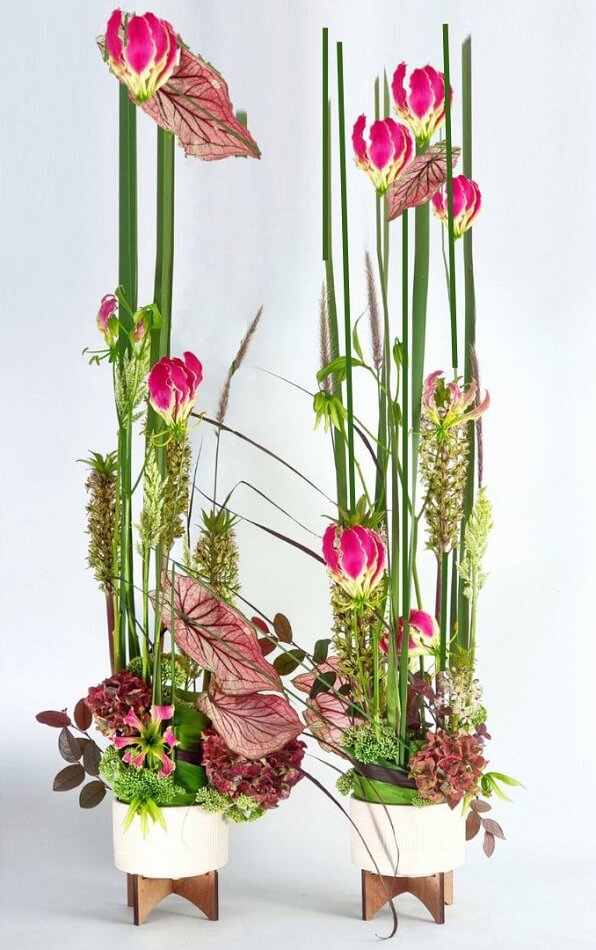 March 2023
Created by Duc Thuan Bui as an exercise in Parallel design in Design Directions; demonstrates that parallelism and creativity are not mutually exclusive.
This design incorporates two parallel systems of organising materials - a dominant system of vertical parallel lines formed by the longest stems in the composition, and a secondary system of diagonal parallel line generated by bending the tips of the Grass material consistently down to the right.
Gloriosa, Eucomis (Pineapple Lily), Caladium, Sedum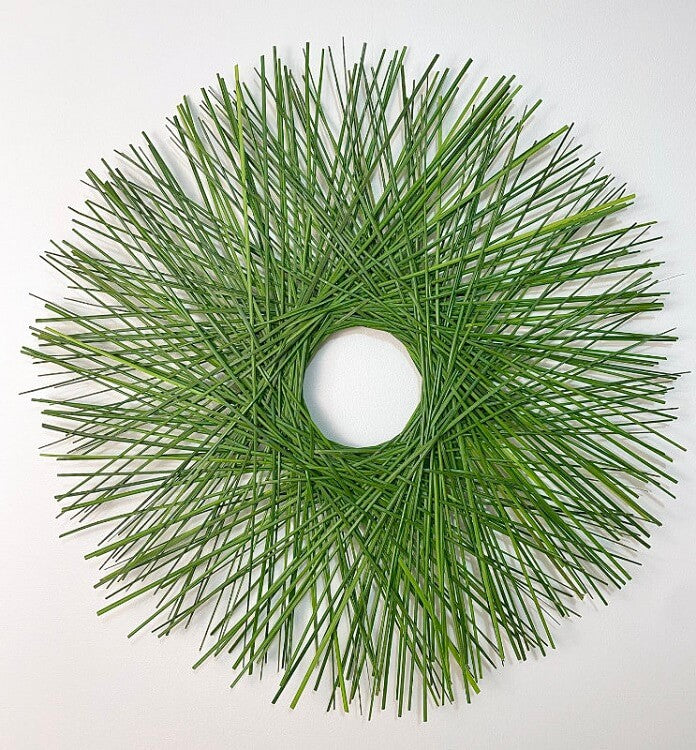 February 2023
Wall wreath created by Yukina Sakabe as an exercise in creating a wreath with minimal material variety, in Design Solutions (formerly Design Discipline)
Rinko Ami is a Japanese basket weaving technique, also sometimes referred to as the Wheel Weaving technique or Bull's Eye Pattern. It is a type of circular plaiting, with the possibility to create a clockwise or anticlockwise rhythm. The construction does not employ any fastening, such as binding or gluing. The stems are interlocked such that they remain in place in the finished wreath.
Xanthorrhoea australis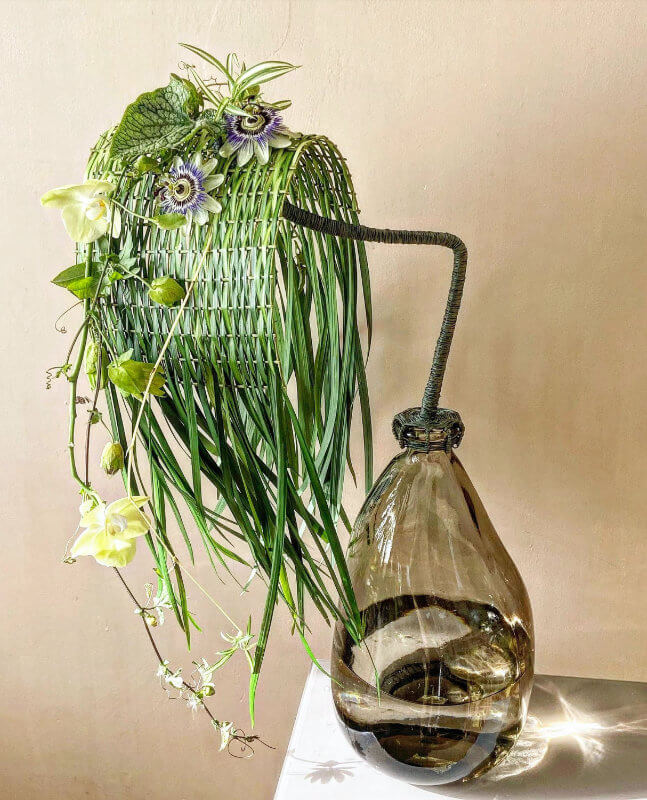 January 2023
Created by Laura Leong as an exercise in Design Directions
The exercise in, creating Long Designs, calls for a decorative or formal-linear vertical design with proportions directed downwards.
Passiflora (flowers and vine), Phalaenopsis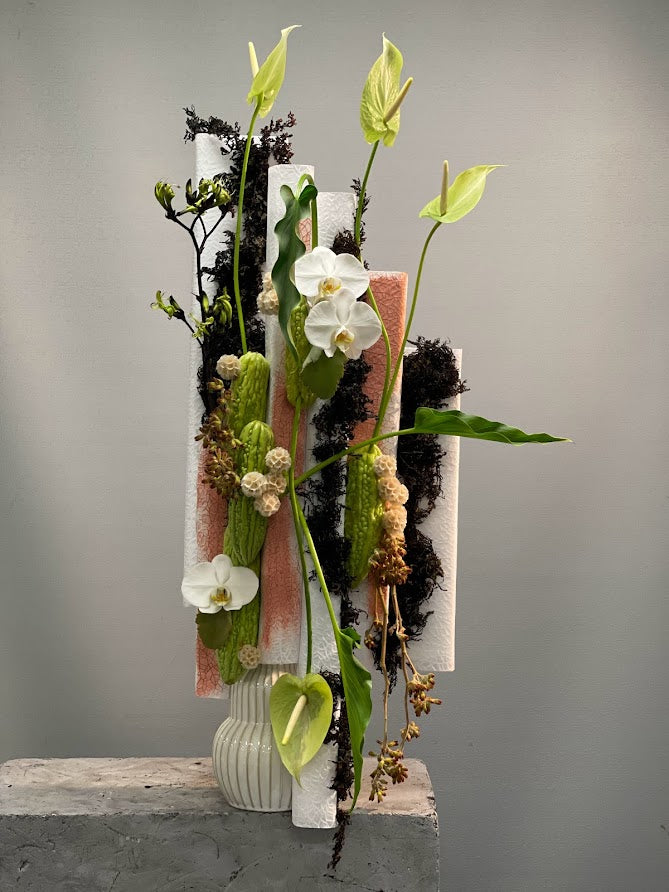 December 2022
A study in Texture created by David Berger as an exercise in One Container, Five Elements.
Seaweed and textured paper formed a base. The addition of clay to the paper gave layers of texture. A subtle use of colour allowed for the textures to predominate.
Anthurium, Phalaenopsis. Kangaroo Paw. Scabiosa, Kalanchoe, Seaweed