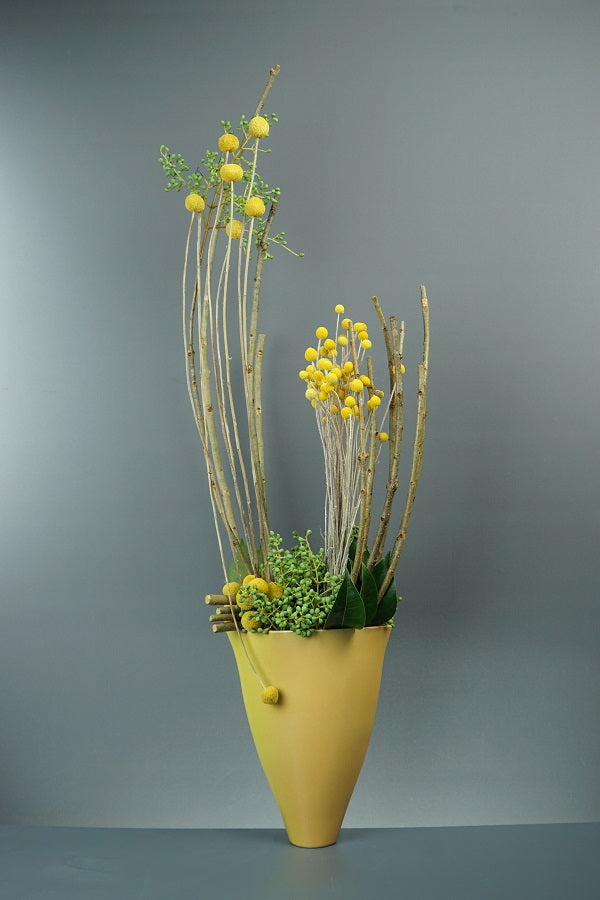 Design Solutions
Lead by Mark Pampling, Master Florist
Let's narrow our focus on the principles of design and become better at using design principles as tools to solve problems in our designing.
When we constrain our material choices we become less reliant on adding more materials to create impact and more skilled in solving design problems using the principles of design as our tools.
And so we become more resourceful, confident and self-reliant designers.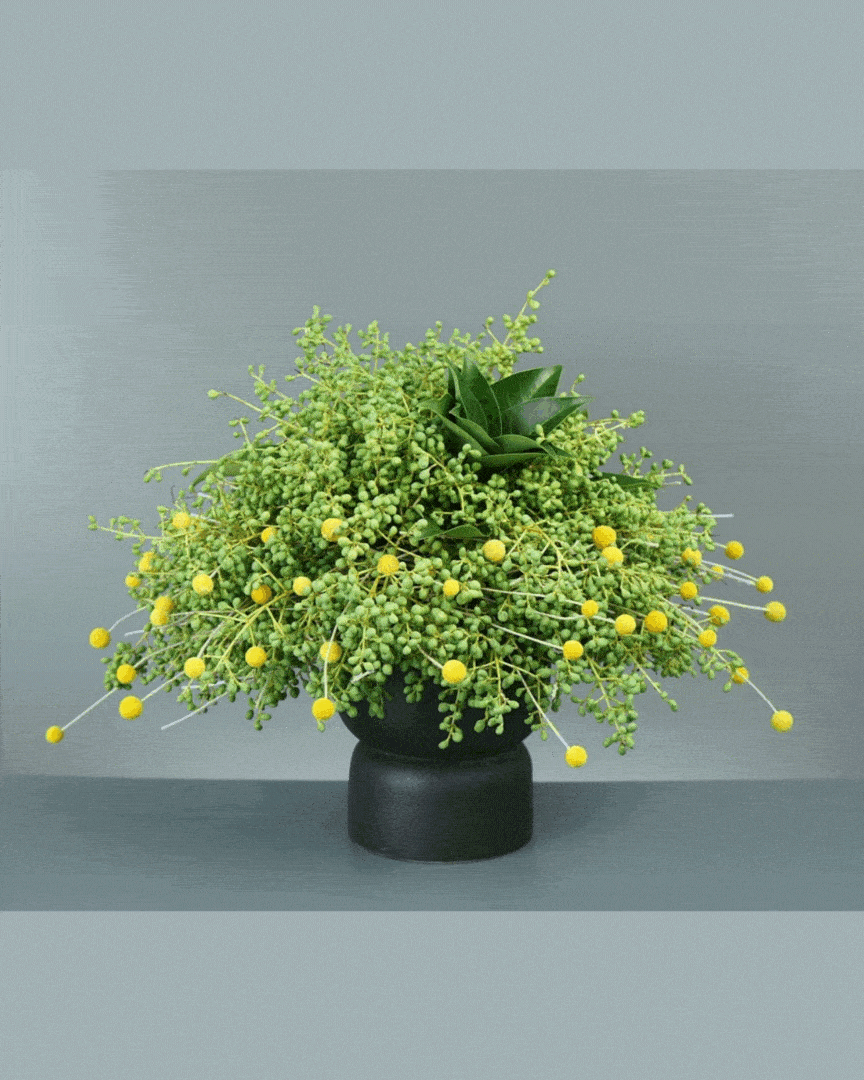 In Design Solutions we apply this way of working to four hands-on exercises, working with guidance, mentorship and feedback from the course presenter, Mark Pampling.
The exercises we use to explore this way of working are an arrangement, a bridal design, a wreath and an overlapping design.
Typical Instructions from a Live Session
Tasks are well explained, comprehensive instructions, generous guidelines and plenty of tips for success.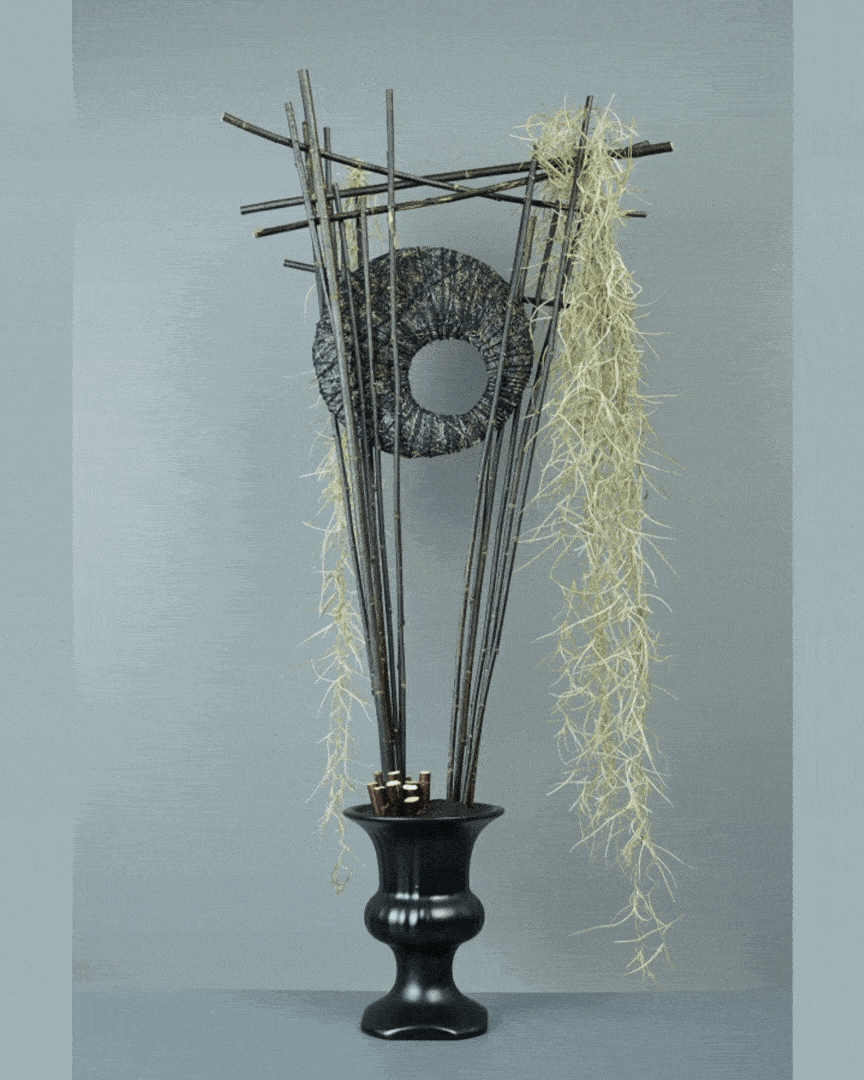 We are inclusive of people of all levels of experience and skill, from those just starting out to seasoned designers. Some of our material is aimed at a more advanced level. Most of it is theory-focused, supported by hands-on exercises and group feedback sessions, all with comprehensive notes delivered after each meeting, and online access to the group session recordings for six weeks after each course completes.
Past participants have come from fields as diverse as floral artist, designer, arranger, floristry judges and teachers.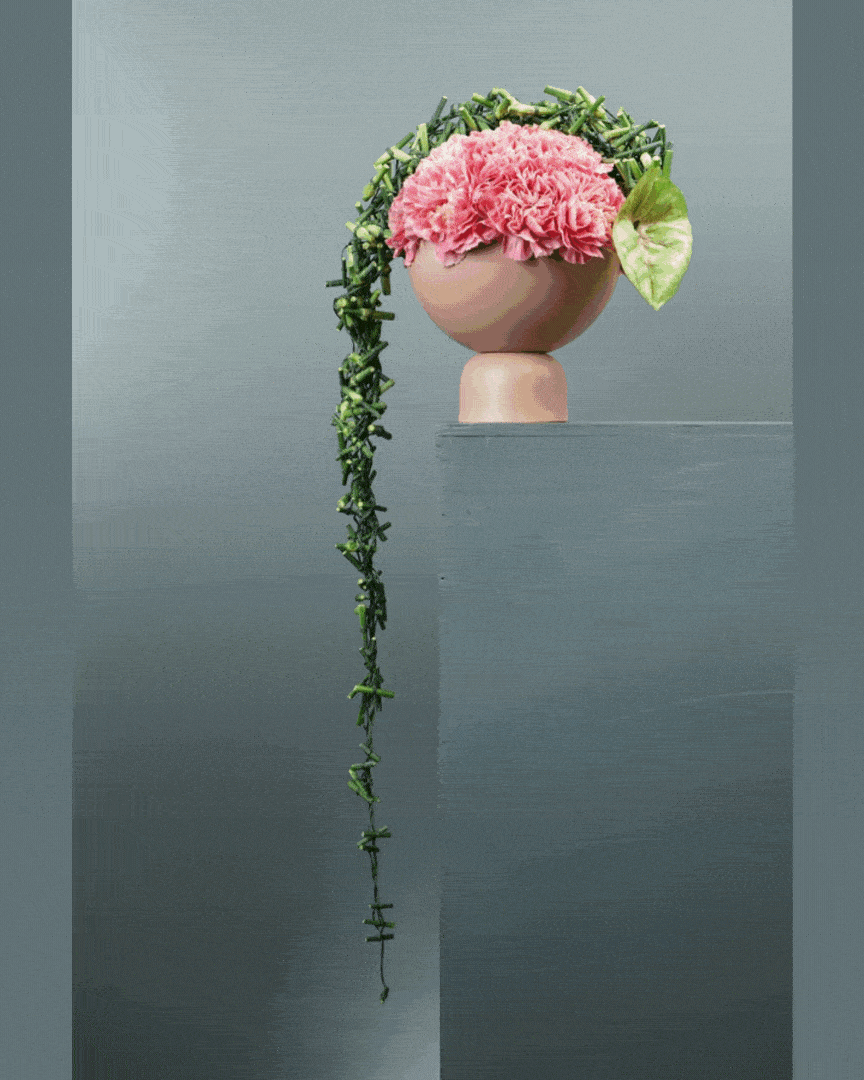 While the aim of Design Solutions is to make us more independent practitioners, we can all sometimes feel "stuck" and need to reach out for help, guidance or just a fresh perspective.
Throughout the course, I am available by email to answer your questions or clarify aspects of the material. I usually manage to reply on the same day, sometimes a little longer if I'm on tour, and sometimes quicker.
Examples Designs from a Live Session
Mark creates plenty of example designs for each exercise and talks you through his decisions, for insight and inspiration. The following clip is excerpted from a session in our One Container, Five Elements course. It gives some sense of the type of discussion you can expect in a Flower Thinking course.
Feedback on our Feedback - from past Participants
At the heart of Flower Thinking's learning process is the feedback and the way it is delivered: detailed and yet concise; technical and also accessible; objective, constructive and respectful.
Sharon, New Zealand

I would highly recommend this type of online learning to others. I really enjoyed the assignments and it was great to have something specific to work on. Each assignment was clearly defined and the feedback provided on everyone's work was clear with exciting suggestions made by Mark on how to improve the design or how it could be developed to become a showstopper.

Celéste, WA, Australia

I'm just amazed at how able you are to in a very positive way, give criticism, it's fantastic. You really have a skill there of not making people feel inadequate and yet you do make all the points that are important.

David, NSW, Australia

Mark thank you for always pushing boundaries and encouraging us to all question why we design as we do. This course is further developing my thought processes in the application of the elements and principles of design. The group discussions provide amazing insights into all aspects of the tasks. Your feedback is considered and on point. Looking forward to the next submission.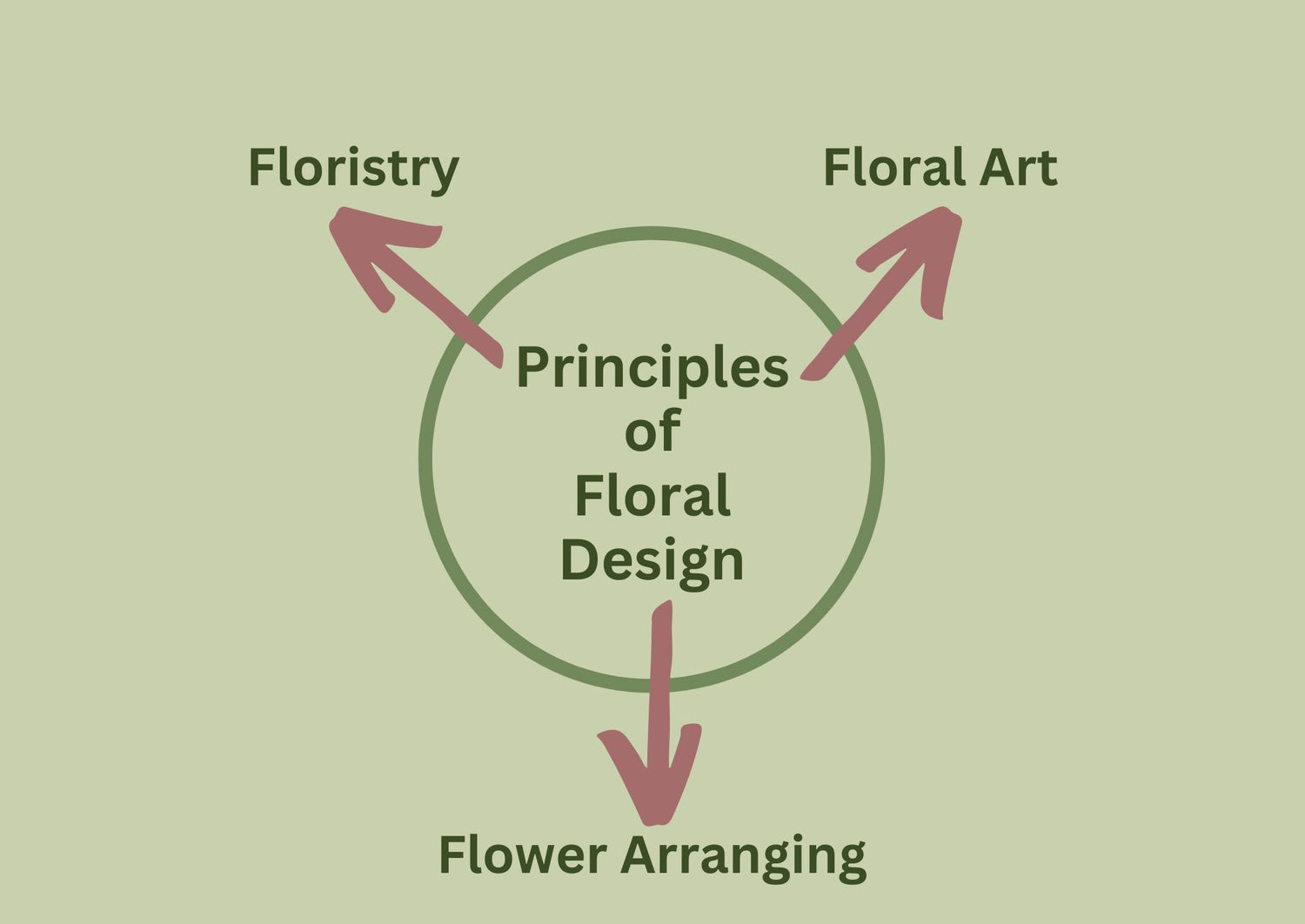 Design Learnings in the Real World
The learnings and insights gained from Design Solutions have wide applicability.
If you educate, judge, compete, design or create with flowers in any form, Design Solutions can make you a more confident practitioner of your craft.
Design Solutions Timetable
2024
Online Introduction
Meeting #1 - Wednesday 19 June 2024, 6:00pm
Subsequent Online Discussions
Meeting #2 - Wednesday 10 July 2024, 6:00pm
Meeting #3 - Wednesday 31 July 2024, 6:00pm
Meeting #4 - Wednesday 28 August 2024, 6:00pm
Meeting #5 - Wednesday 25 September 2024, 6:00pm
Task #4 - Overlapping Design
2025
Course dates for 2025 are yet to be announced.
Times
All times listed are Australian Eastern Daylight Time (AEDT - Sydney). You can compare your local time zone to Sydney time  at flowerthinking.com/worldtime.
Stay Updated
 If you'd like us to update you on new course dates and other developments in Design Solutions, you can register your interest here.
Participation Guide
The Participation Guide is your guide to getting the most out of your participation in the Design Solutions program.
If you have questions about Design Solutions, some answers may be found in it, and you are also welcome to ask us any question directly.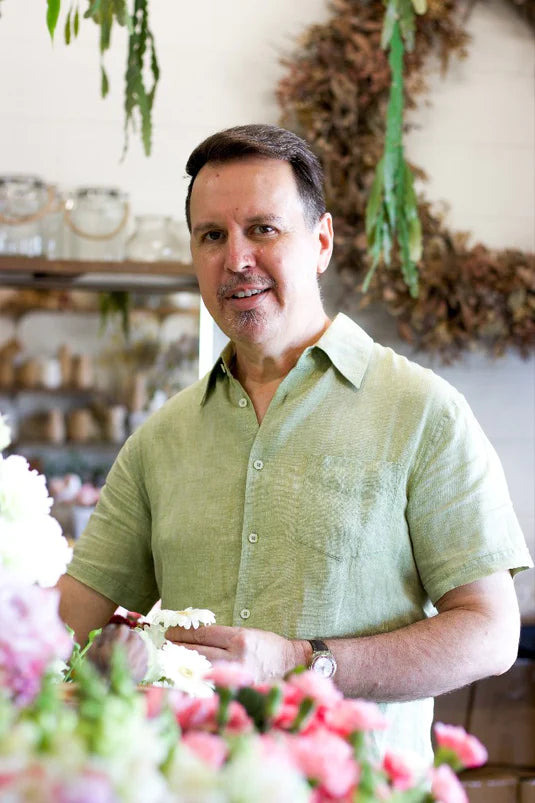 Mark Pampling has been designing, competing, teaching and judging for thirty years now and is as well known for his clear, linear design style as for his patient and inclusive way of sharing his knowledge.
2019 Beijing World Flower Art Contest – Champion
2015 Interflora World Cup, Berlin – Judge
2014 Fusion Flowers International Designer of the Year – 1st Place
9th China International Orchid Show (Sanya) – Best Creative Award
2014 International Flower Contest Japan – Best in Show, Gold Award and Design Innovation Award
Asia Cup 2014 (Japan) – 1st Place – Surprise Table Display
2013 Fusion Flowers International Designer of the Year – 2 Silver Awards & 1 Bronze Award
2012 Fusion Flowers International Designer of the Year – 4th Place
2012 Interflora Australia Cup – Winner
2011 Interflora Australia Cup – Winner
Australian Competitor 10th Interflora World Cup 2004 – 3rd Place
You can learn more about Mark here.
Embark on a journey of floral design discovery - not by seeing new things but by seeing things differently. Restrict your material choices and consciously apply design principles to solve design problems and create more impact without reaching for more materials.
Work through four distinctly different tasks, with expert guidance, mentorship and support from course convenor Mark Pampling, Master Florist.
Grasp the design principles as tools in your kit and wield them more adeptly for more design success, with less material and more intent.
The program timetable and detailed information on how to participate can be found in the Participation Guide.
Regular price
$298.00 USD
Regular price
Sale price
$298.00 USD
Unit price
per
Sale
Sold out
Share
View full details