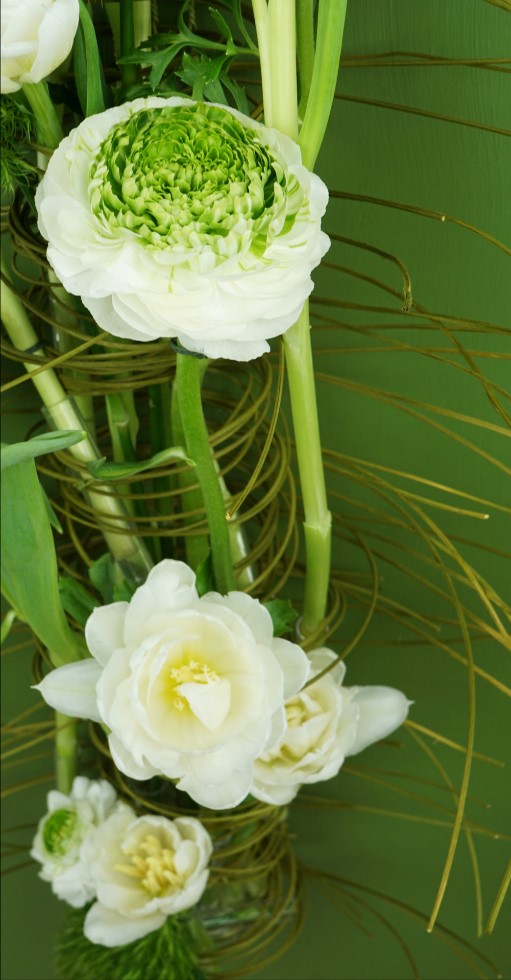 Linear Precision
When viewing a gallery of works by Australian Designer, Mark Pampling, a few words come to mind. Precision. Linear. Refined. Form focused. These commonalities run throughout almost all of Mark's designs. He, more often than not, takes a structural approach to his compositions, starting with a framework or armature into which he carefully curates the flower placements. The variety of techniques used to create these starting points is broad, showing a clear calling to advanced floral craftsmanship and attention to detail.
Another common theme in the works is asymmetry. Even within his symmetrical offerings there is a deliberate organisation of materials to induce a more dynamic visual balance and overall impact.
Perhaps the most obvious take out from Mark's portfolio of work is his affinity for line and the many ways it is managed and presented in floral contexts. Mark masterfully handles lines, whether he is prioritising their role, refining their organisation, elevating their presentation or giving them a clear energetic direction.
While usually taking a resourceful approach, using what's readily at hand, Mark always keeps an eye out for an exotic or fascinating material to include which could contrast well against its ordinary companions. No matter the material or the material combinations involved, Mark presents the linear aspects of his designs in ways to intrigue the viewer.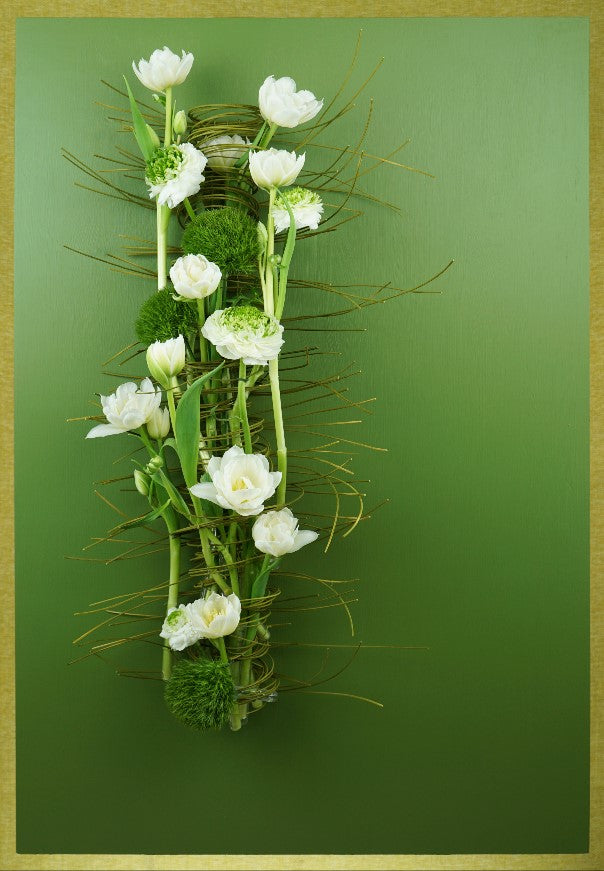 Wall hanging of spring flowers emerging from a rattan cane structure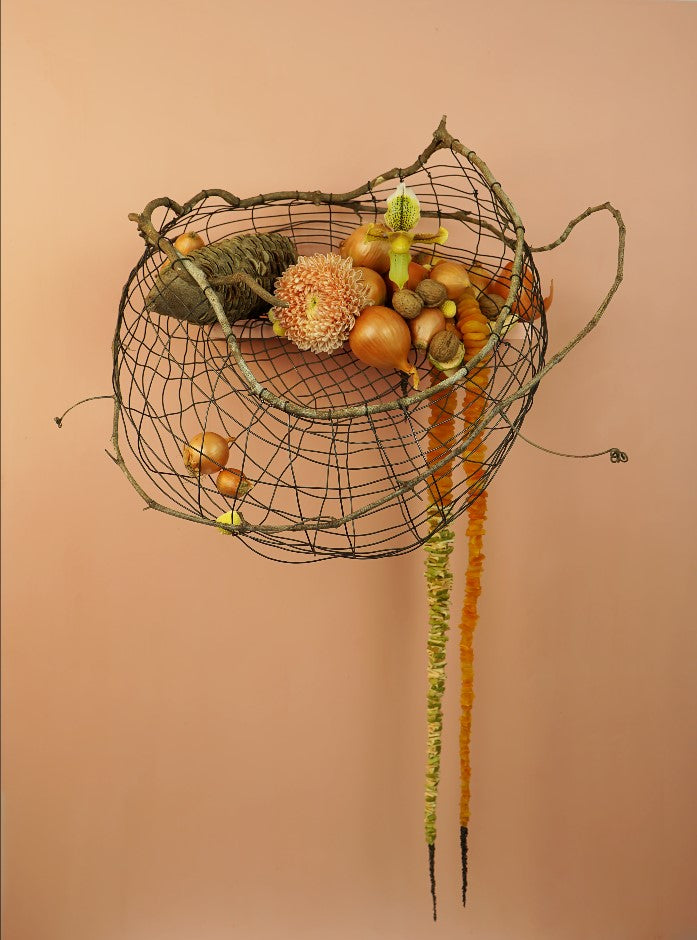 Unlikely companions (dried apple and apricots, brown onions and a large Banksia pod) crowned with an exquisite Slipper Orchid – in a hand woven, asymmetrical basket
Pararistolochia praevenosa, Chrysanthemum, Banksia, Paphiopedilum, Allium cepa, Juglans, Prunus armeniaca, Malus, Craspedia
Photographer – Mark Pampling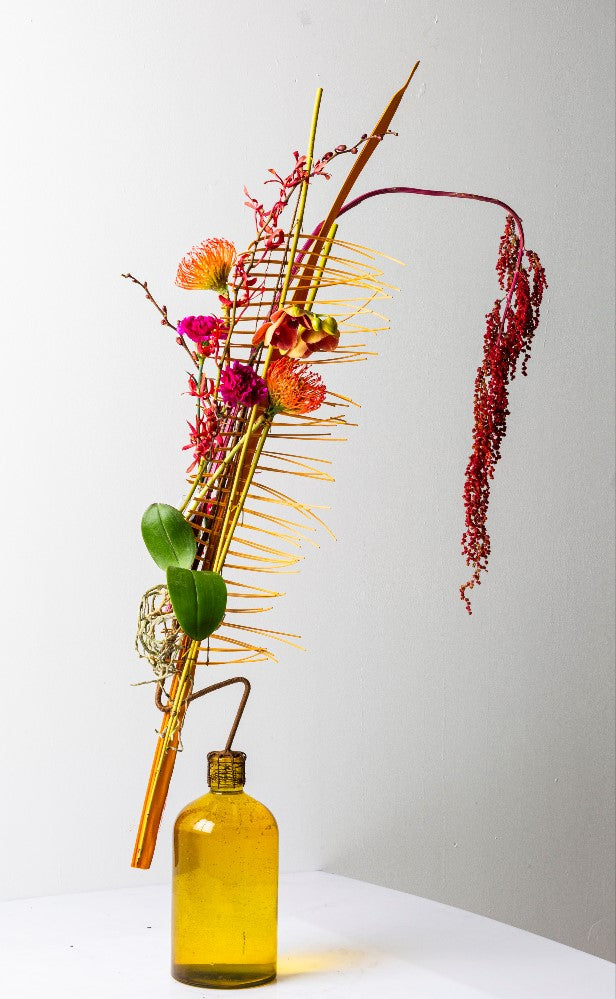 Leaning design of exotic florals floating above an amber bottle
Cordifolium, Amaranthus caudatus, Phalaenopsis, Celosia cristata, Aranthera
A teaching example presented at Cohim, Flower School Beijing
Photography - Courtesy of Cohim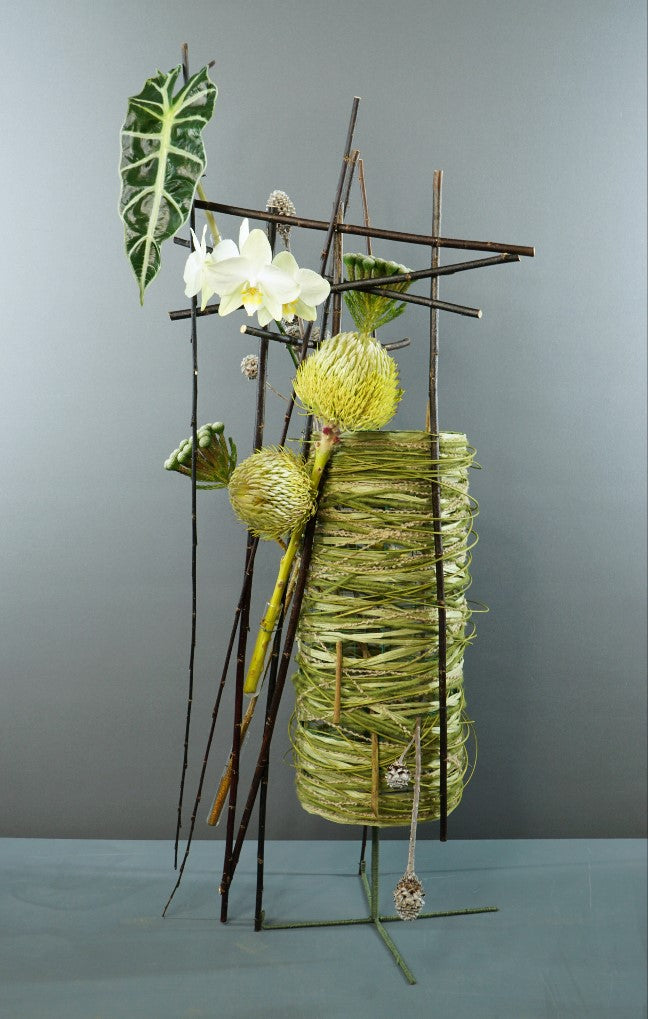 A structure of Black Willow and a cylinder of raffia and fibres anchors striking flower placements.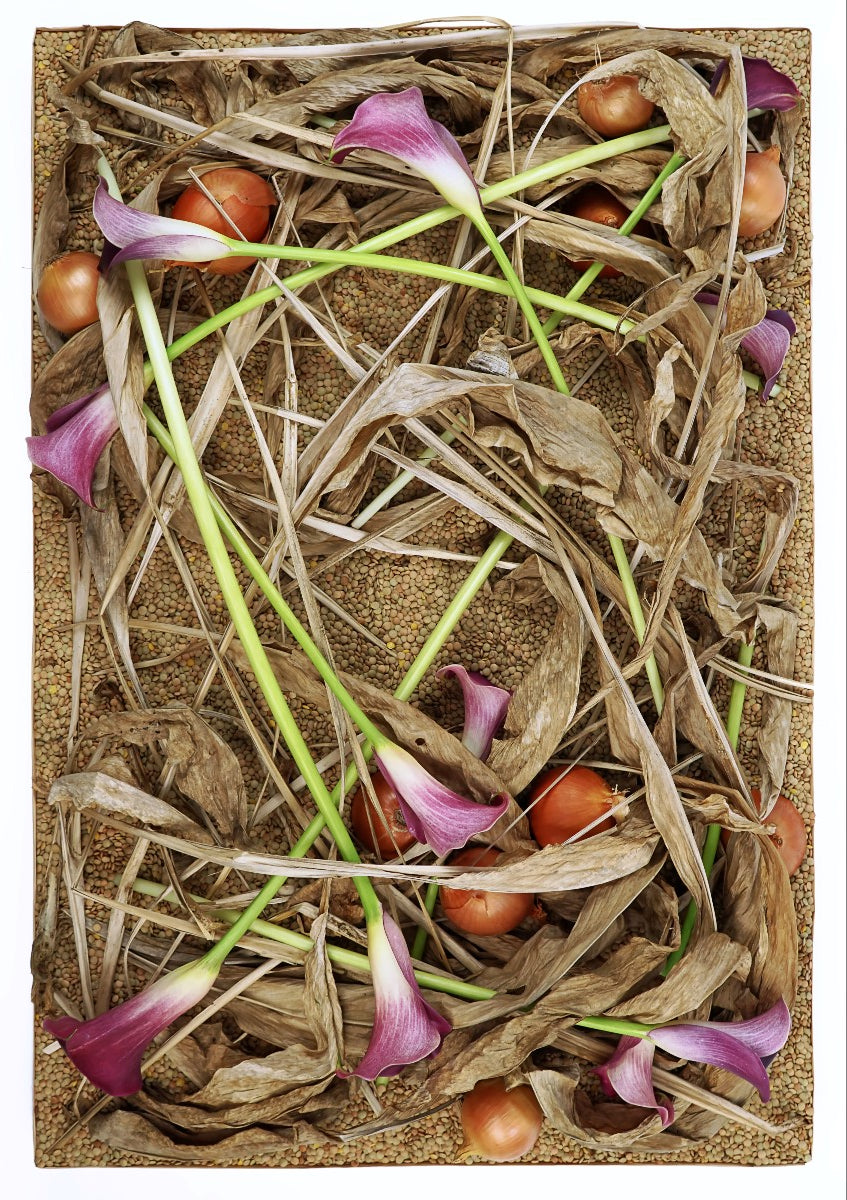 A bed of Lentils and dried Turmeric leaves supports the placements of Zantedeschia and brown Onions.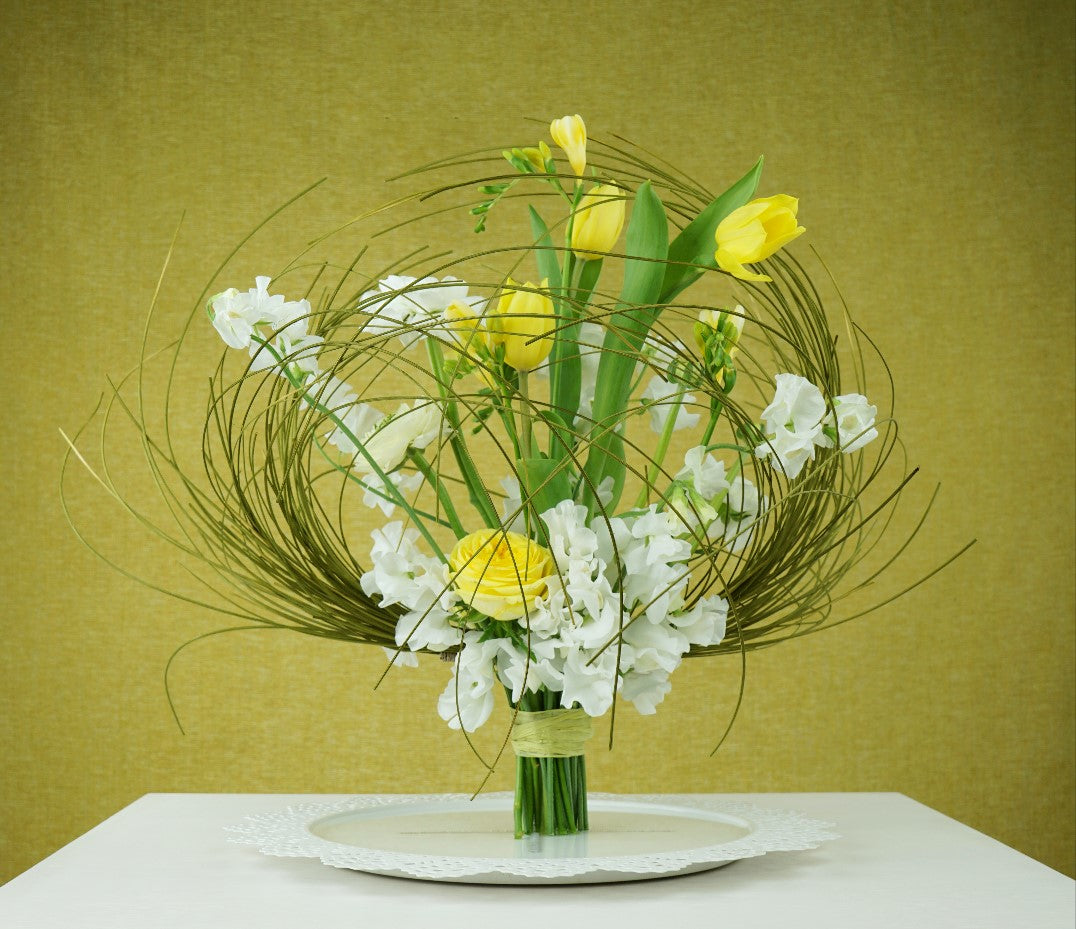 Freestanding bound composition of spring flowers, presented in a shallow, water-filled tray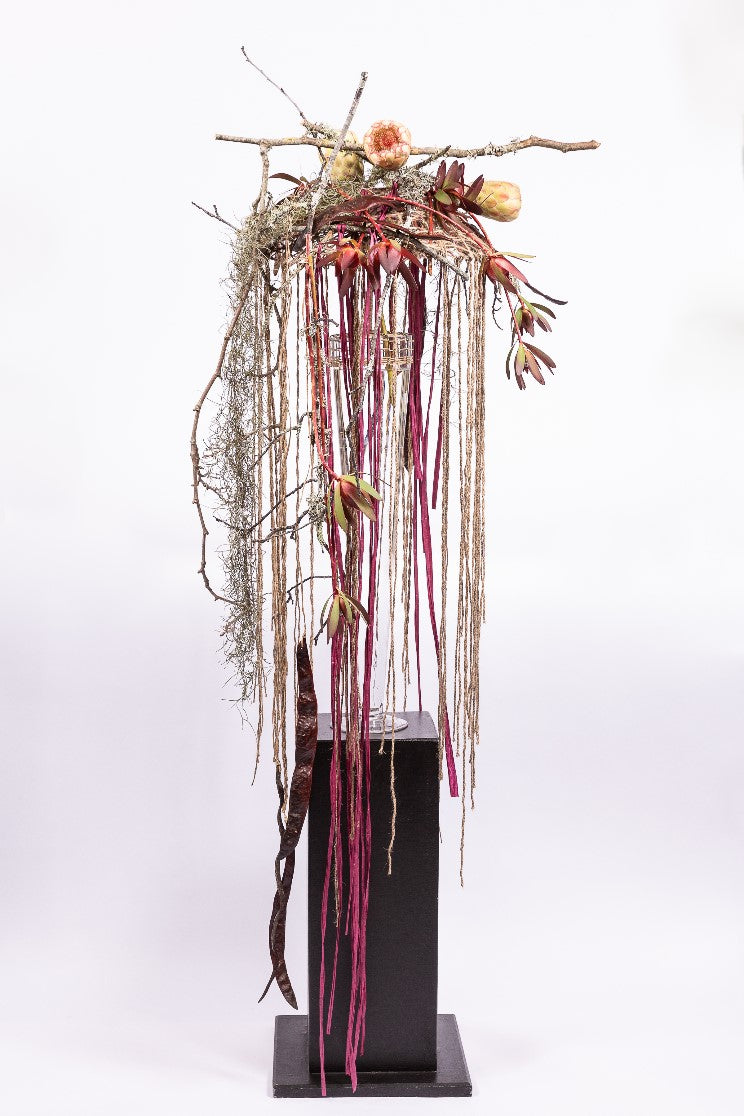 Draping, canopy design of Lichen branches and Tillandsia, constructed on a tall Pilsner vase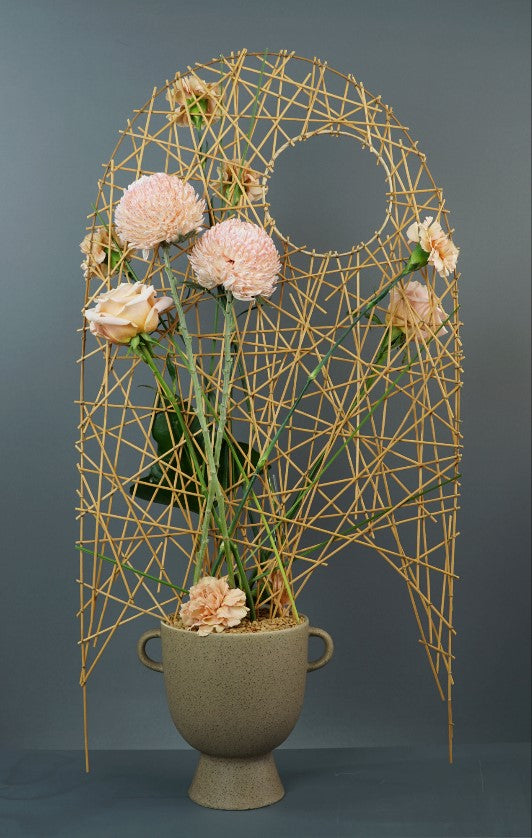 An architectural approach to designing, with a balance between contemporary and classical influences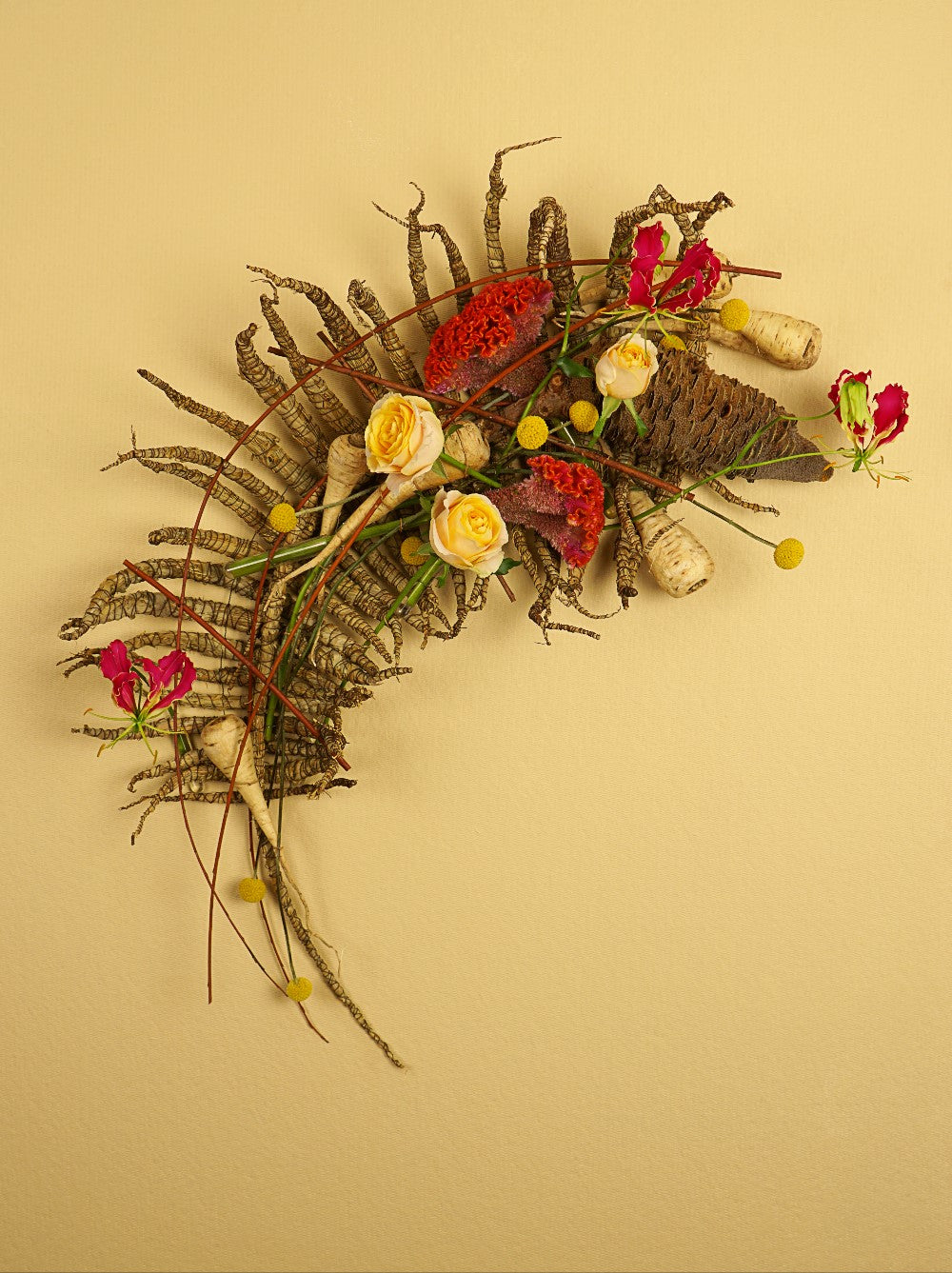 A structure of Hay sickles forms a backdrop for a collection of fascinating floral and vegetable forms – including Parsnips
Banksia, Pastinaca, Gloriosa, Rosa, Celosia cristata, Salix, Craspedia, Bambuseae
Photographer - Mark Pampling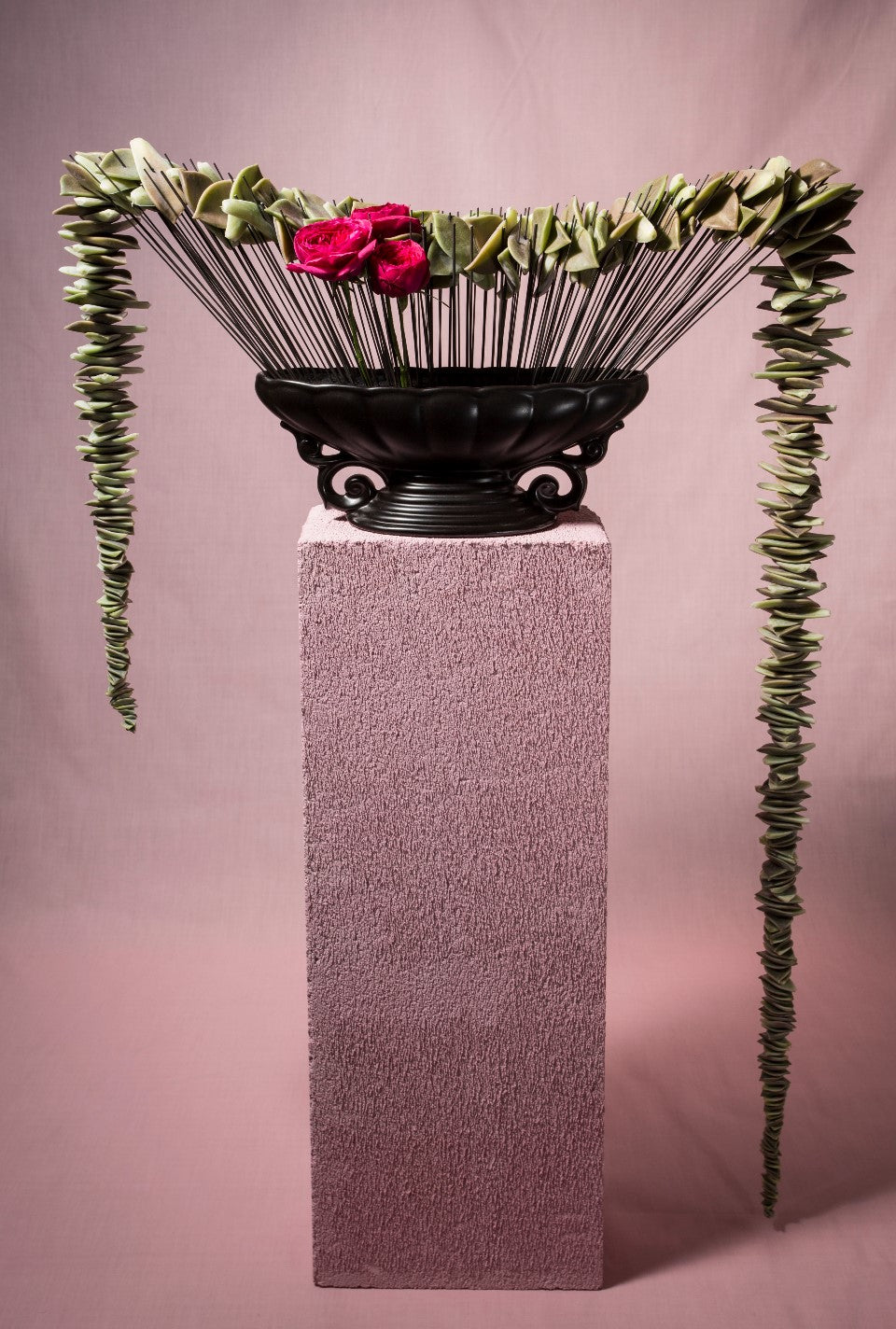 Threaded Graptopetalum pieces form a graceful line that is decorated simply with a cluster of fragrant Roses.
Graptopetalum, Rosa
Photographer - Iain Brockwell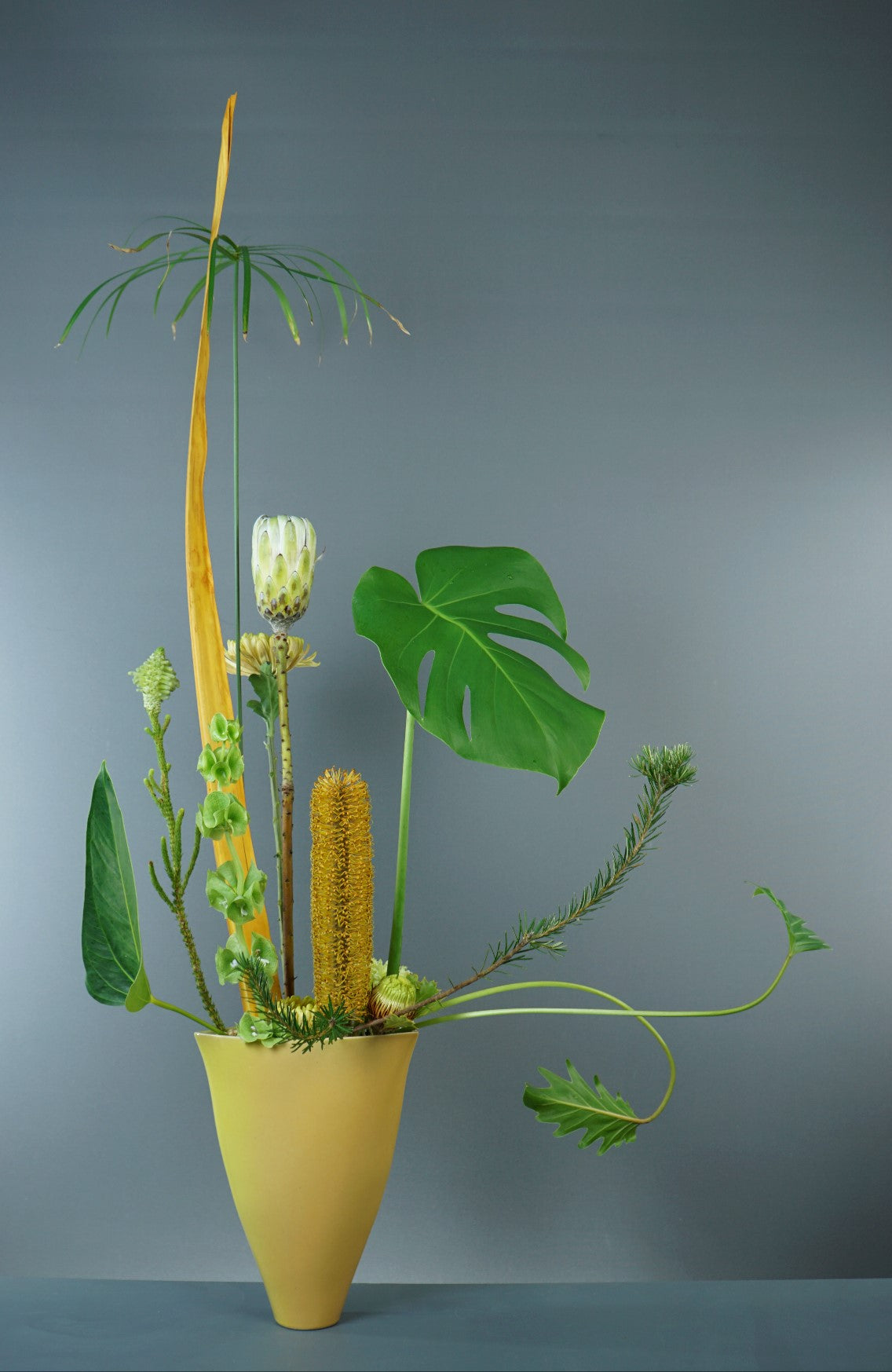 A reduced colour palette allows  the forms and lines of the individual materials to come to the fore in this formal-linear arrangement.
Protea, Banksia, Philodendron, Papyrus, Dryandra, Chrysanthemum, Molucella, Erica sessiliflora, Anthurium
Created for Flower Thinking's Design Directions online program
Photographer - Mark Pampling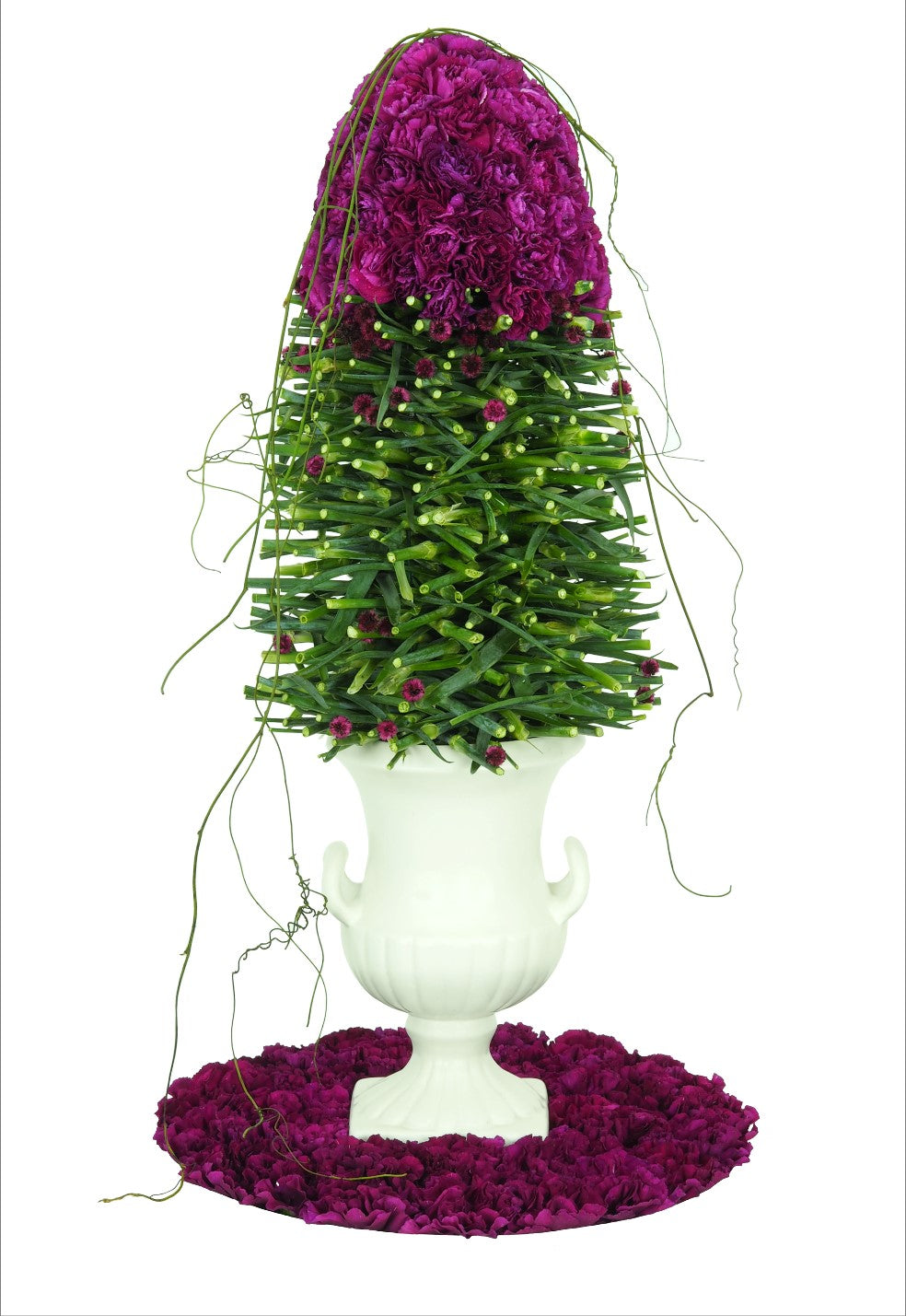 A Carnation study – stems, blooms and petals – minimally decorated with Dodder Vine and dyed Stirlingia flowers
Dianthus caryophyllus, Cuscuta australis, Stirlingia
Photographer – Eddie Brockwell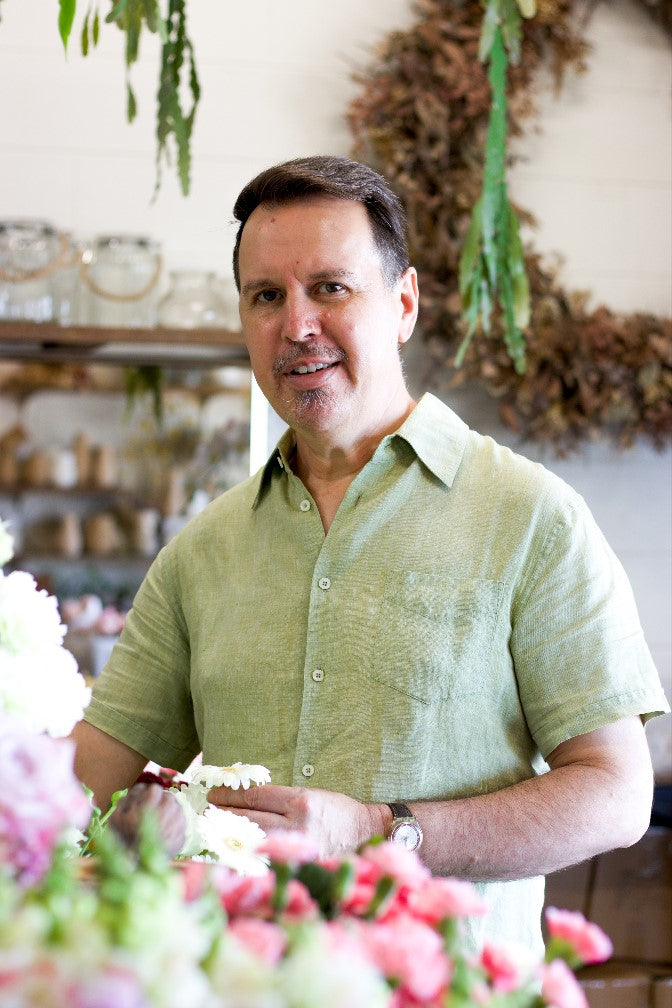 Mark Pampling
Mark Pampling is a world-renowned Floral Designer and teacher who has won awards in many countries. He has a reputation as an expert in floral design; his work is often described as 'clean', with an affinity for clearly prioritising lines and strong forms. His designs frequently take a disciplined, resourceful approach to material selection.
A two time recipient of Australia's top floristry prize, the Interflora Australia Cup, Mark has been highly placed in several international competitions and exhibitions, including a 3rd placing at the Interflora World Cup in 2004 (representing Australia) a Gold Medal at International Flower Show Japan in 2014, and Champion at the 2019 Beijing World Flower Art Contest.
An experienced demonstrator, accredited floristry Judge and floristry industry consultant, Mark was also a Senior Lecturer at Cohim, Flower School Beijing, for over three years. Numerous international floral design publications have showcased his work. Since 2020, he's launched into the digital world, presenting online workshops, video tutorials and live presentations, and authoring instructional eBooks. 
Mark is known as a generous teacher and educational leader, which has led to collaborations and guest roles with schools, colleges and flower associations internationally.
A co-owner of Alstonville Florist in northern New South Wales and a Director of Interflora Australia, Mark is also a Floral Fundamentals Ambassador, contributing to their purpose of forming stronger connections between flower growers and floral creatives.
Mark's philosophy is that there is no end to learning in floral design and he actively embraces the roles of both teacher and student.